The hand pump series have been greatly upgraded to all stainless steel pumps, maintaining the ultra modern appearance, pursuing the concept of "ultimate manual pumps.
Inherent Major Features

These pumps are free from rust, thanks to the seal-up construction made of stainless steel body.

The pumps have realized the highest head of 50 meters (incorporated with an optional cylinder )

The pumps are "state-of-the-art of engineering" with fully closed construction,assuring contamination free from foreign materials.

Due to the simple construction, and reduced number of parts, these pumps guarantee our clients the maximum reliability.

Additionally, our hand operated pump needs only minimum power to pump water from the well, even while cylinder( pump section) is positioned deep, thanks to the clever balancer provided helping to reduce pumping energy.

Incidentally, this type of hand operated pump can be used together withanother  submersible well pump. (in case of well diameter over 200A)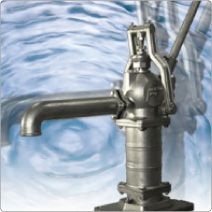 Specification
| | | |
| --- | --- | --- |
| Well diameter | mm | 100 |
| Model | | ZO-Ⅲ |
| Suction head (Max.) | m | 7 |
| Cylinder bore diameter | mm | 105 |
| Stroke per min. | no./mim | 40 |
| Discharge per stroke | L/stroke | 1.25 |
| Discharge per hour | L/hour | 30000 |
| Riser pipe diameter | mm | 40 |
| Rod diameter | mm | 16 |